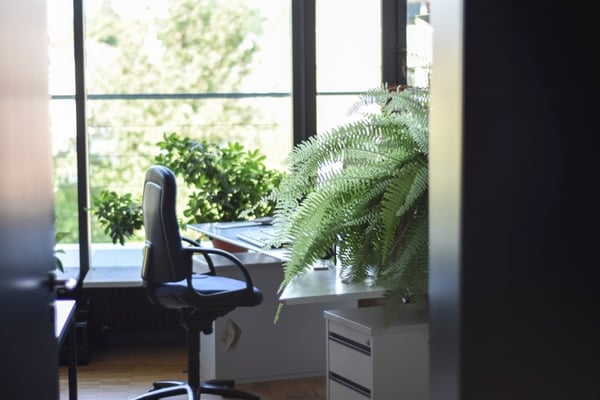 It's no secret that increasing carbon emissions has been a hot topic over the past few years, not just in New Zealand but around the world. To combat this, many governments and organisations are looking at ways that they can reduce their carbon footprint to make the world a better, and more sustainable place. In December of 2020, New Zealand joined 32 other countries to declare a climate emergency and committed to taking urgent action to reduce carbon emissions. Now more than ever it's important to see what more we could be doing, to reduce our carbon footprint.
It's become common practice for companies both here in New Zealand and overseas, to adopt eco-friendly practices in their offices, to help lead the change. And while creating these environmentally-friendly spaces, organisations have realised that there are more than just environmental benefits to these new and improved offices. Many organisations that have adopted 'green buildings' see not only improved health in their staff but also increased productivity. International studies show that people see an improvement of between 8 to 11% in productivity, due to better indoor environmental quality.

With these types of benefits in mind, why wouldn't you take steps in creating a more eco-friendly work environment? And while things like improving the building's energy efficiency rating may not be something you can directly impact, there are other small ways that you and your colleagues can make your workplace more environmentally friendly.
1. Reduce waste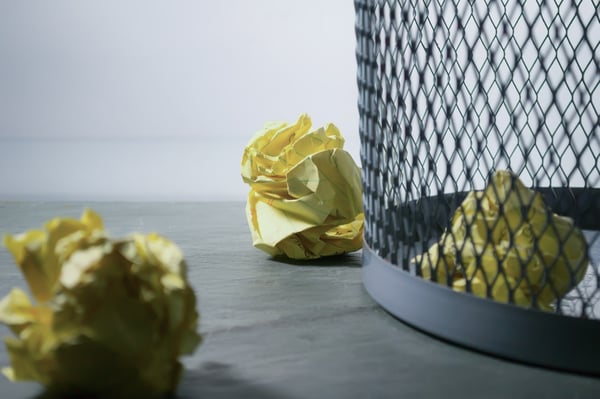 Reducing waste in your office isn't just about ensuring you have the correct recycling bins in place – although that is a very important first step! Consider how many single-use items your office disposes of regularly, and how you can lower the use of them. Try switching to reusable or compostable cutlery instead of plastic disposables, and avoid printing documents where possible. If you do need to print, ensure you print on both sides and recycle appropriately later.

Look beyond recycling just your paper documents. Ensure things like shipping supplies, ink and toner cartridges, computers, mobiles and other appliances are going to places where they can be restored, or recycled, instead of simply disposed of. There are now recycling centres available in many of our main centres, where you can take old and unwanted technology. The Junction in Taranaki for example can be used by local residents to take their e-waste for recycling and resale. Or if you're located in Auckland, Computer Recycling is the place to go to recycle your unwanted computers and laptops. And for the rest of the country, nationwide tech provider, Noel Leeming, has partnered with Tech Collect NZ to offer free e-waste collection at 16 of their stores.

If you think that another workplace may value your unwanted goods you may consider setting up office swaps. You may not need those desk trays or office chairs anymore but that doesn't mean that they're no longer useful, and could benefit another workplace. Your trash could be another person's treasure!

If all else fails in reducing waste in your office, simply getting rid of general rubbish bins and replacing them with recycling bins can be a great solution. Take Method bins, for example, these are now commonplace in many offices around the world due to their sleek and modern design and how easy they make it for people to recycle their goods. The bins are clearly labelled so it's simple to separate your organic waste from your glass and recyclables.
2. Use more recycled materials
Where you can, purchase office supplies and furniture that is recyclable or manufactured from recycled materials. This reduces the amount of product going to landfills, as energy is used on recycling those materials, instead of creating new products. Consider purchasing things like recycled toilet paper, recycled notebooks, compostable bin liners and recycled paper as packing fillers.

Many manufacturers and distributors will offer eco-friendly alternatives to traditional office supplies and if you can't find what you're looking for, many will be happy to help you find the right sustainable solution.
Learn about our range of sustainable supplies here >>
3. Buy in bulk
Buying in bulk makes environmental sense – when you buy large amounts there's less packaging than when you purchase smaller amounts more often. Purchasing less often also means less freight, resulting in fewer emissions.

To do this successfully, ensure you keep a good inventory of supplies and be aware of any sales that incentivise bulk purchases. Of course, some things can't always be purchased in bulk, but things like coffee and tea, mailing supplies, pens and other stationery are very easy to buy in large amounts.
4. Natural cleaning supplies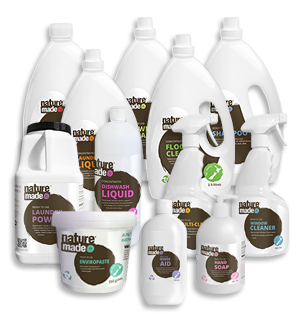 These days we're more aware of the effects harsh cleaning chemicals can have on the environment, particularly our waterways. Thankfully, more brands are developing eco-friendly natural cleaners that actually work so you can be sure your workplace is as clean as a whistle, while also being kind to the environment. Look at alternative hand soaps and other general cleaners, and aim to buy solutions in bulk that can be poured into reusable bottles, to reduce any plastic waste.
5. Dim the lights
Energy consumption is one of the largest contributors to carbon emissions, so aim to reduce your office energy consumption with smarter lighting choices. Use natural light where possible, and ensure computer screens are in places that reduce glare. Consider installing sensor lights in rooms that aren't used often (like conference rooms) so lights are not left on unnecessarily. Also move to alternative lighting choices, like LED or fluorescent bulbs which will lead to reduced energy consumption.

So there you have it, five simple ways you can start to create a more eco-friendly office space. Need some help finding eco-friendly office supplies? Just browse our range of sustainable products online in our free catalogue.