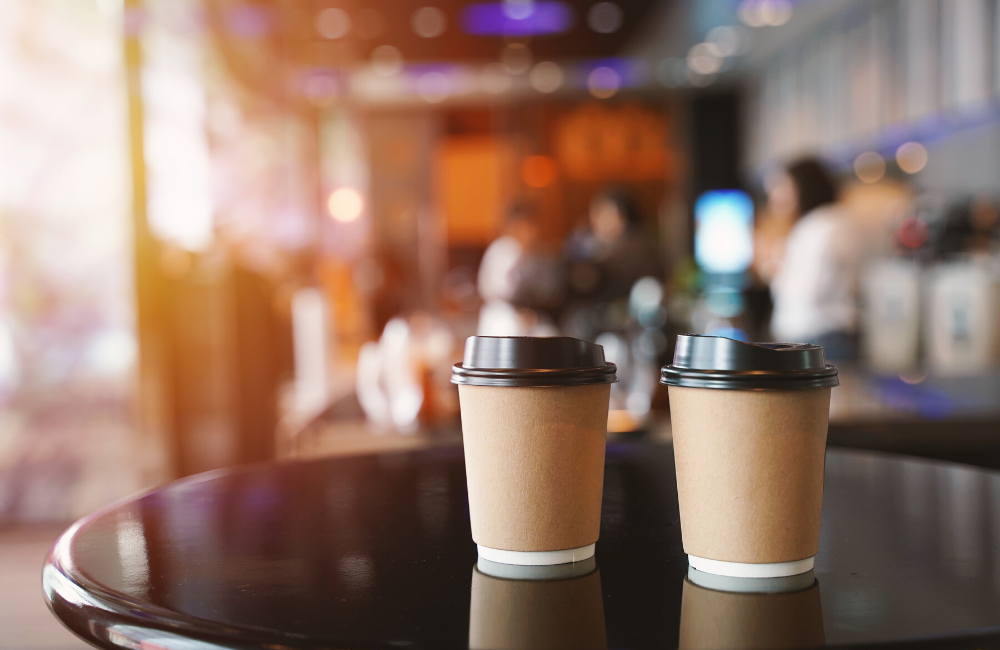 Many hospitality businesses took a big hit during COVID-19, having to suspend or alter dine-in services to meet government regulations. If they didn't offer takeaway and delivery services already, many restaurants and cafes pivoted to offering this so that they could still operate, and serve the needs of their customers.

While we may have shifted back to Alert Level 1, many New Zealand restaurants and cafes have seen the benefits of offering these services and have continued to offer takeaway and delivery options for customers. Kiwis have become accustomed to the convenience that these services offer and ever since the switch to Alert Level 3, many local delivery services have been swamped with orders as they try to keep up with customer demand for convenient takeaway food.
For those of you that do offer customers the flexibility of takeaway or delivery food, it's important to make sure that you have the right packaging for these products so that they arrive at their destination in the best condition possible. We've highlighted some packaging considerations for takeaway and delivery outlets along with a few packaging products that help to make things as easy as possible.
Essential packaging considerations
Now that you're offering your customers the flexibility of ordering their favourite meal, food, or drink in a convenient delivery or pick-up option, now's the time to make sure the packaging you're using for these items is the best it can be!
How will your items get to their destinations?
One of the first things to consider before purchasing any packaging is how your items will get to their destination. Popular local delivery services like delivereasy rely on delivery drivers who generally only use either scooters or motorcycles to deliver items to their destination – because of this the food has the potential to move around quite a bit while in transit. Is this something that you've factored into your delivery packaging?

It's important that your items are the best representation of your cafe or restaurant – just like with a sit-in customer you wouldn't want a first time delivery customer to receive goods that aren't up-to-scratch! Make sure your goods are as protected as possible during transit with appropriate protective packaging.
How will your customers dispose of the packaging?
Consumers are becoming more and more environmentally conscious and for many Kiwis it's important that the packaging they receive their takeaway or delivery food in can be easily recycled, reused or home composted. Where possible many businesses are now avoiding the use of plastic packaging and instead are opting for more sustainable alternatives. Not only will using more sustainable food packaging help you to reduce your carbon footprint, but sustainable packaging is surprisingly affordable too.

This is a challenging balancing act for many businesses. The need to contain and separate liquids, hot foods, cold drinks and surplus moisture build-up all in a package that doesn't break or spoil the products presents a unique set of problems. Luckily there are a lot of solutions available which are low-cost, sustainable and fit for purpose.
Packaging is a great way to showcase your brand
Not only should packaging be practical and as environmentally friendly as possible, but it's a great way to showcase your brand! Lots of different packaging items can be custom-printed now making promoting your brand and key message easy. Some companies choose to print just their logo onto their food packaging while others will include their contact details or tagline too. The options are endless! Printed packaging is a great way to make your deliveries stand out from the crowd.

Branded packaging can give courier drivers an indication of the fragility of what's inside, make it easier to divvy up takeaways, and promote your offering to new people at every possible opportunity.
Packaging options for takeaway and delivery food
There are a range of different packaging options available for takeaway and delivery food items, many of which are great sustainable options too. We've outlined some of the range available from Primepac that help to make sure that food items get to your customers in top condition.
Protective packaging
For customers that may be buying meals for the whole family, it's important that these are protected so that they won't move around too much during transit. No-one wants to receive a food delivery that's completely upside down and more of a dog's dinner! There are some simple packaging products that can help to make sure your items get to where they need to be, in one piece.
Paper bags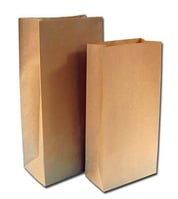 Heavy duty paper bags are a great way to keep multiple delivery items secure and in one place. Available in a range of different colours and sizes most paper bags are also 100% recyclable making them a great sustainable option! Paper bags are also a practical option for those customers who may be coming in to pick up takeaway items too.

Shop paper bags here >
Paper air cushions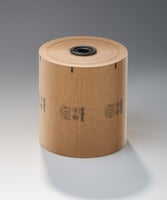 If it's extra cushioning that you need, Airwave Paperwave film is a great option. These cushions are made of recycled paper and are an easy way to bulk out a box of delivery items that you don't want moving around during transit i.e. fruit.

Shop Airwave Paperwave here >
NZ Post-Sized Courier Boxes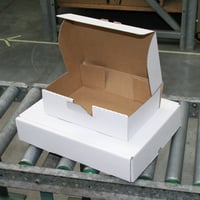 If you're shipping delicacies across New Zealand then these are an ideal option to ensure your shipping costs are managed while getting your produce directly to your customers. With standard sizing there's no surprises and the self-locking lids provides additional security.

Shop NZ Post Size Boxes here >
Thermal packaging
You can't go past thermal packaging products to keep your items at the right temperature during transit!
Thermogard gel ice packs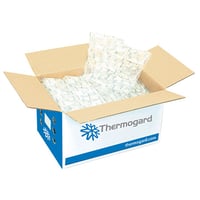 Thermogard is the perfect choice to make sure any perishable goods like fish, meat or wine stay nice and cool during transit. Made locally in New Zealand, these gel ice packs come in a range of different sizes so are useful for a range of different applications. They're reusable as well, perfect for reducing the environmental impact.

Shop Thermogard here >
Freight foil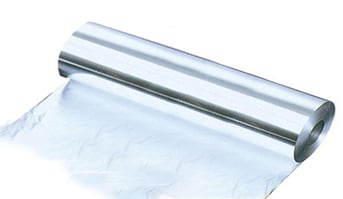 If you're concerned about rapid temperature changes while your food items are being delivered or are concerned that items will be in transit for a long period of time, then freight foil is a great way to prevent this. Use it to wrap your perishable goods so that they arrive at their destination in top condition!

Shop freight foil here >
Disposable cutlery
For anyone in the takeaway or food delivery business, having disposable cutlery on hand that you can include with orders is an essential. There are now some great sustainable cutlery options available too which are great alternatives to traditional plastic cutlery.
Green Choice cutlery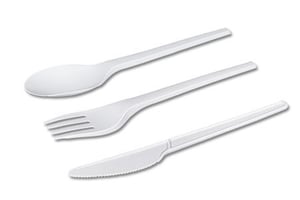 The Green Choice range of cutlery is made from CPLA – a plant-based plastic that breaks down into plant matter. Perfect for those customers that may be eating on the go and need some cutlery to take with them!

Shop Green Choice cutlery here >
Green Choice cups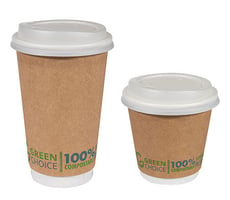 For businesses that serve takeaway coffee it's now considered normal to offer recyclable or compostable cups for customers that don't have their own reusable ones. Made from CPLA, the takeaway cups from Green Choice are great for an environmentally conscious businesses. Featuring plant-based paper, plastic and inks, these cups are a great sustainable choice.

Shop Green Choice cups >
As we've mentioned throughout this article, there are some great packaging options available for businesses that offer takeaway or delivery services and who want to make sure that their items reach their destination in top condition. There are also some fantastic sustainable cutlery options now available for those businesses that no longer want to offer customers traditional plastic cutlery with their orders.

You can learn more about the hospitality supplies we have available for cafes and restaurants on our website here.