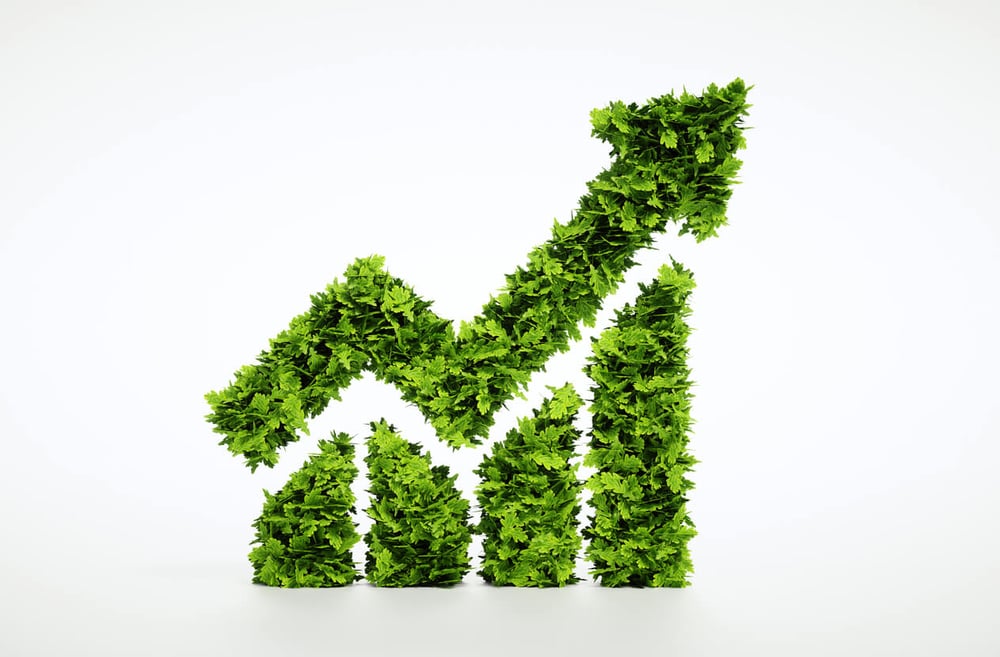 An important factor for many consumers when they make a purchase now is the sustainability of a product. What material(s) is it made from? Can the packaging that the product comes in be easily recycled or reused? Making more sustainable choices is at the forefront of our minds with many Kiwis actively looking for ways that they can be more environmentally friendly whether that be at home, or at the office.
Traditional packaging items have long been created from single-use plastics that have given consumers and businesses no choice but to dispose of their consumables in landfills. However, with advances in technology and more importance being put on sustainability, not just here in New Zealand, but globally, we're seeing some exciting new trends emerge in the packaging industry.

With the rise of COVID-19 impacting supply chains and causing shortages in common raw materials needed to manufacture items like packaging tapes, we're also seeing some unexpected products emerge as possible alternatives.

From industrial paper packaging supplies to sugar plastics, we've highlighted some packaging trends and sustainable products to keep an eye on throughout 2021!
Industrial paper packaging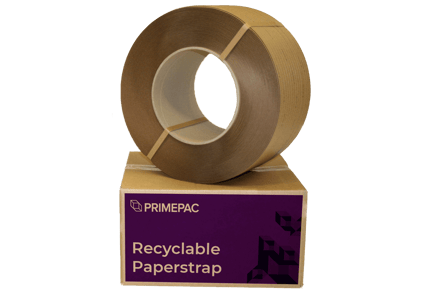 Traditionally, warehousing and logistics environments have heavily relied on various forms of plastic packaging – from packaging tapes to bubble wrap and polypropylene strapping. You can now find sustainable alternatives to almost all common and frequently used industrial plastic packaging products. One alternative that has come to the market recently that we're excited about is paper strapping. Paper strapping is a completely recyclable alternative to polypropylene plastic strapping.

As well as being 100% recyclable, paper strapping also has a range of other benefits which include:
Biodegradable
Quick and easy to apply
Strong and robust.
Our new paper strap will allow you to bundle and secure your parcels easily and quickly with a packaging solution that's more environmentally friendly. It can also be easily recycled once your pallets reach their final destination. Our paper strap is compatible with both automatic and handheld strap machines meaning that you can still use the machinery that you already have. An added bonus!

Learn more about paper strapping here >
Sugar plastics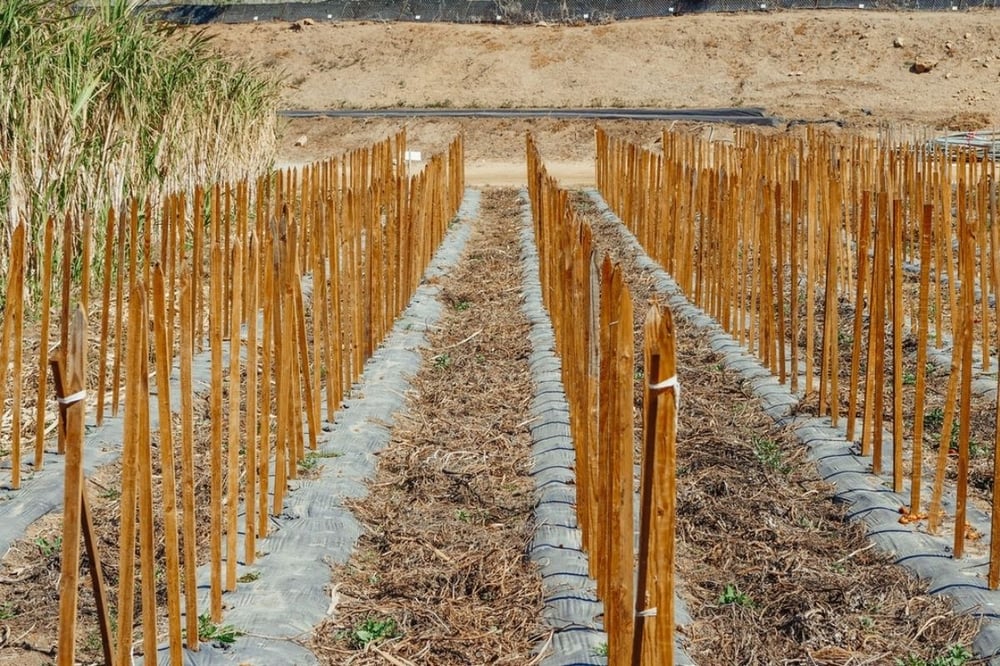 Many of us can admit to having a bit of a sweet tooth but did you know that there are other ways that sugar can be used, other than just for sweets and treats?

Sugar cane is used to create plastics and is utilised by many leading companies and brands to manufacture anything from shampoo and milk bottles to cleaning products – great sustainable solutions to fossil based plastic packaging products.

The process of turning sugar cane into an environmentally friendly plastic is complex and involves the initial crushing of the sugar cane stalks to release the sugar juices. The next crushing phase breaks down the sugar even further; this is then used to create bio-ethanol – a plant-based alcohol. This bio-ethanol can be used as a petrol substitute, or to make plastic which is molecularly identical to traditional plastic made from fossil fuels.

Sugar cane paper is a by-product of bio-ethanol production, meaning there is no wastage. Fossil plastic needs an outside source of electricity to produce it, however sugar cane plastic uses the crushed pulp to produce the electricity that runs the factory which produces the plastic.

There are many other benefits to using sugar cane for plastics. As outlined by Biopak, the benefits of sugar cane include:
Land protection
Using sugar cane as a raw material is another way that we can protect our forests. 5 tons of wood are needed to produce 1 ton of pulp for paper, while only 1.5 tons of sugar cane pulp is required to produce the same amount of paper.

Sugar cane can also be grown on land that can't be used for anything else. Growing sugar cane on unusable land in Brazil for example actually replenishes the soil – sugar cane plastic only uses 0.02% of Brazil's land.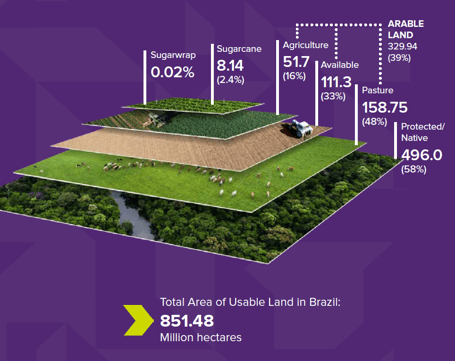 Less toxic
The production of sugar cane packaging requires fewer toxic chemicals. Crops are easier to turn into pulp than wood, and in turn, they require smaller quantities of toxic solvents to turn them into pulp – especially for things like paper making.
Sustainable
As we've already alluded to, sugar cane is fast becoming a sustainable solution to less environmentally friendly packaging materials like plastic.

Sugar cane is considered a renewable resource that's sustainable – unlike paper which is generally harvested from virgin forests, which are quickly becoming endangered. What many people don't know is that sugar cane also captures CO2 as it grows, resulting in a lower carbon footprint. When sugar is used to produce plastic, the CO2 captured in the growing phase is locked into the plastic. If the plastic is then recycled, the CO2 is also locked into the new product.

Lots of companies that have traditionally relied on fossil fuel-based plastic packaging are now turning to sugar cane as a sustainable alternative. Take Fonterra for example, they've introduced a plant-based sugar cane milk bottle that customers can currently buy across the North Island, in a commitment to lowering their footprint.

Here at Primepac, we're also doing our bit to offer customers more sustainable solutions. We now stock a range of packaging products, manufactured from sugar cane. From plates to bowls, we have a number of fantastic options, particularly for those that work in the food and beverage industries.

Browse sugar cane packaging here >
The shift to PET tape
As you're already aware, COVID-19 has had an impact on many aspects of our lives and it continues to impact things like access to the raw materials required to produce things like packaging tape.

With a worldwide shortage of packaging tapes, it's been suggested that manufacturers make the switch from PVC to PET. PET is an abbreviation of Polyethylene terephthalate, better known as polyester tape. PET is being used for manufacturing tape if high tensile strength is required.

PET tape is a very strong case sealing tape. This type of tape is resistant to tearing and does not stretch lengthwise or widthwise. PET tape has the ideal properties for a smooth, mechanical processing. It's also perfect for closing heavy or overfilled boxes with high tension on the flaps.

PET tape offers many benefits when high mechanical, chemical and temperature resistance is required:
Moisture resistance
Chemicals and solvents resistance
Abrasion resistance
Temperature resistance up to 200°C (20 min)
Clean removal
Outstanding dielectric strength
High tack
Excellent ageing and weathering properties.
If you're considering trying PET tape then you'll be pleased to know that there is also a low environmental impact, when compared to traditional plastic packaging tapes. The reduced thickness allows a saving of over 20% of plastic and a smaller footprint for the same size. As PET tape is a lot stronger, you'll also be able to use a lot less tape, to get the same hold or seal. Keep an eye out for PET tape, which will be coming to our website soon!

There you have it – three trends and new products to watch out for this year! You can view even more of our sustainable supplies here or in our latest product catalogue. Download or request your free copy now by clicking below.