DISCOVER MORE ABOUT ULTIWRAP PALLET WRAP
Use less wrap and save!
Ultiwrap is a sustainable alternative to traditional pallet wraps allowing you to wrap twice as many pallets, per roll.
Using less pallet wrap will not only save on costs, it's also much more environmentally friendly. Half as much pallet wrap used means half the amount going to landfills. To date, we've seen plastic waste reduce by 589,338 kgs – all from using Ultiwrap!
Other key features of Ultiwrap pallet wrap include:
Improved resin technology.
Increased film stretch, with increased load containment.
Better puncture resistance.
Multi-layer nano technology.
100% recyclable.
Significant cost savings and a reduced environmental footprint – a no-brainer!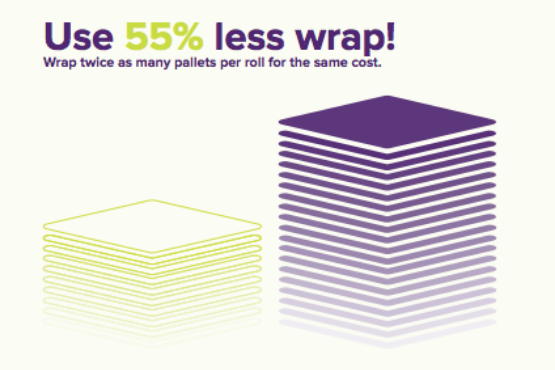 Learn more about Ultiwrap
Our tests consistently show that by using Ultiwrap, you will see pallet wrap savings of up to 55% – without risking pallet security!
The increased puncture resistance and multi-layer technology means that Ultiwrap can be stretched further and that you can wrap almost twice as many pallets, when compared to traditional wraps.


Do you know how efficient your current pallet wrap is?
We can visit you to discuss how you could be saving money on your pallet wrapping needs. Simply let us know that you would like a pallet wrap assessment by submitting the form.