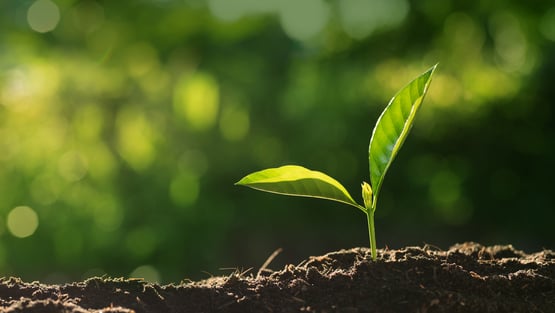 Recently, there has been a strong focus on replacing plastic packaging products with more eco-friendly and sustainable alternatives in New Zealand. Disposable plastic shopping bags are long gone, and they've already been banned in many other countries too.
It would be easy to get caught up in this by avoiding all plastics and putting them in the 'bad plastics' category. But are all the plastic bags and wraps we use the same? Are there any plastic packaging products out there that eco-friendly businesses can still use as a form of packaging?
Sure, new degradable, compostable and biodegradable bioplastics are being developed and are entering the market, but you may be surprised that there are already some biodegradable plastics available, that have been a part of our everyday lives and business practices for years. Cellophane is a great example of a bioplastic that New Zealanders have been using for years, with many being unaware of the environmental benefits it presents.
In this blog we look at the composition of cellophane and why it's an excellent eco choice for your business.
Interested in using cellophane to package products in your business? View the Primepac range here.

Cellophane is plant-based
That's right – cellophane is made from plants and even gets its name from cellulose, the structural component of plants. Cellophane can be produced from easily grown crops such as hemp or farmed trees. We all know what cellophane is, as it feels like it's always been around for things like wrapping food and hampers, as well as gifts.

Cellophane came about in the early 1900s after Swiss man Jacques E. Brandenberger was sitting at a restaurant table and noticed that someone had spilt some wine. It was at that table that he got the idea to develop a material that would repel liquid instead of absorbing it – and so cellophane came about.

Cellophane was made commercially available in 1912 and grew in popularity during the late 1920s when moisture-proof cellophane became available – this type of cellophane was more suitable for households as it could be used to wrap food items. It was extremely popular as a wrap until the 60's but then saw a decline due to the rise in production of petrochemical-based plastics like single-use plastic bags that consumers and businesses are now trying to avoid today.

Today's modern bioplastics are also plant-based, but the difference is that they are primarily made from corn – a crop grown on land that could be better put to use being eaten. This then gives cellophane a strong advantage, as it can be made from crops like Hemp that are capable of growing in harsh conditions, and on land that would be avoided for food production.

Cellophane is compostable
Cellophane will biodegrade – the time it takes to break down will vary depending on whether it's coated or not. Research finds that uncoated cellulose film only takes 10 days to 1 month to degrade when buried, and if coated with nitrocellulose it will degrade in approximately 2 to 3 months.

If it's in a freshwater environment, the uncoated film has a 10-day rate of biodegradation and coated cellulose film can take up to a month. This really is a fast rate for a plastic to naturally compost and considering many people wouldn't know that this was possible, it's a far more 'green' and eco-friendly business option than people think.

Another interesting point is that when comparing cellophane degradability with bioplastics made from corn, cellophane breaks down much quicker. There are also some concerns around recycling corn-based bioplastics which are currently classified as a number 7 plastic resin, which means they fall into the "other" category. Plastics that fall into this category must be kept separate from other plastics so that they don't contaminate the recycling stream. Another big issue with corn-based plastics is that they take a long time to degrade – analysts estimate that a PLA (polylactic acid) bottle could take anywhere from 100 to 1,000 years to decompose in a landfill.

Use cellophane instead of traditional plastic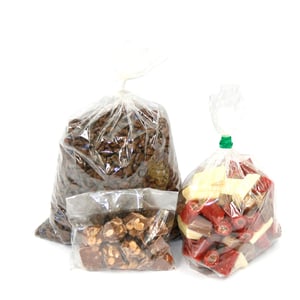 Cellophane is much thicker than traditional, thinner types of plastic like sandwich wrap. As it's a thicker type of plastic, it's a lot sturdier and less prone to breaking when used for applications like wrapping food items. It's also a lot easier to clean if it does happen to get dirty. Being a moisture-proof material it's also great for wrapping things like fresh flower bouquets.

As a bioplastic, cellophane is 100% biodegradable so it's easy to dispose of – simply put it in your home compost bin and it will easily degrade amongst your other composted items.

Using cellophane in your business
Cellophane is a versatile material that can be used for many different applications and in a range of different types of businesses from florists, to bakeries and supermarkets. There are lots of eco-friendly cellophane packaging and wrapping options for you to use in your business. At Primepac we offer a range of flat, gusseted and wine cellophane bags to choose from that are both practical and environmentally sustainable.