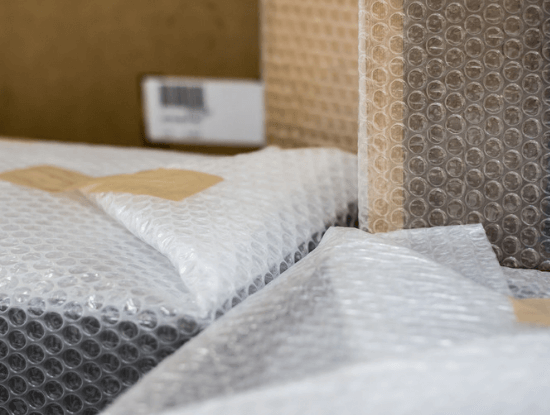 If you order our Eco Bubble Wrap, you may be wondering – how do I recycle this? Different regions have different rules for recycling, most of which are governed by local council. However, there are a number of companies coming on board now that offer recycling options for soft plastics, on a commercial scale. In this blog, we outline some of the different options available for businesses and delve into the current options available for consumers.


But first, what type of plastic is Eco Bubble Wrap?
There are seven different types of plastic, all with different features and made from different materials that have an effect on how each plastic can be recycled. The seven different plastics can be identified by the triangle symbol displayed on the plastic packaging or product.
Eco Bubble Wrap falls into the fourth category more commonly known as LDPE (Low-Density Polyethylene). LDPE is found in things like shrink wrap and plastic bags used to package bread. When recycled, LDPE is used for plastic lumber, landscaping boards, rubbish bin liners and floor tiles.¹ This type of plastic resists acids and oils, is tough and flexible, and often transparent. A great way to test if the plastic is LDPE is by seeing if you can push your finger through the soft plastic.²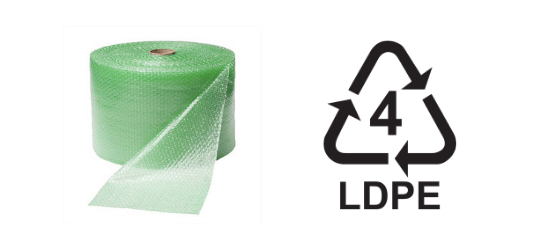 Commercial Recycling
If you own or work for a business that purchases Eco Bubble Wrap, or perhaps you receive items wrapped in Eco Bubble Wrap, there are a number of recycling companies that recycle large commercial quantities. These companies will work with you to collect the Eco Bubble Wrap and arrange for it to be recycled in New Zealand, or alternatively exported and recycled in a different country.
Astron Sustainability
Astron run a large-scale plastic scrap collection service across Australasia. The process is tailored to suit each individual client and to accommodate their volume of scrap. Collections can be organised daily, weekly or as required. Collection stillages are also available for clients.
Smart Environmental
Smart environmental offers a number of different commercial recycling services, including different sized recycling bins which they will also empty, sort, and recycle at their locally owned Materials Recovery Facility (MRF). They're also happy to go and visit your place of work or business to assess your situation and recommend a suitable recycling programme for you.
Waste Management
Waste management offers plastic film recycling services for businesses. They offer bin solutions and regular collections to help you store and secure all of your soft plastics for recycling such as bubble wrap, and pallet wrap. They will also organise a regular collection schedule tailored to your business or workplace so that all your plastic can be safely recycled, to go into new packaging or consumer products. The only thing you need to do is make sure all plastic is clean and free of any contaminants like food spills or chemicals.
Reclaim
Reclaim offer a number of recycling services for businesses which includes the collection and recycling of plastic film. Using correct sorting procedures, Reclaim can assure businesses that their waste is converted into new end-products.
Consumer Recycling
Unfortunately, there aren't as many options for consumers when recycling soft plastics like Eco Bubble Wrap just yet. If you live in Auckland however, there is a soft plastic recycling scheme in place which sees soft plastics recycled into fence posts and ducting. To recycle your soft plastics, simply drop them off in a soft plastics bin at a participating store. For more information on this scheme and to see what plastics they do and don't recycle, take a look at their FAQs page.
Need to stock up on our Eco Bubble Wrap? If you're in the North Island you can order here, or alternatively if you're in the South Island, you can order here.
At Primepac we stock a range of other eco-friendly products for businesses which include paper bags, reusable bags and sustainable cutlery. You can take a look at some of these products here.
¹ https://www.livegreen.co.nz/blogs/news/confused-about-recycling-handy-nz-recycling-guide

² http://www.recycle.co.nz/symbols.php