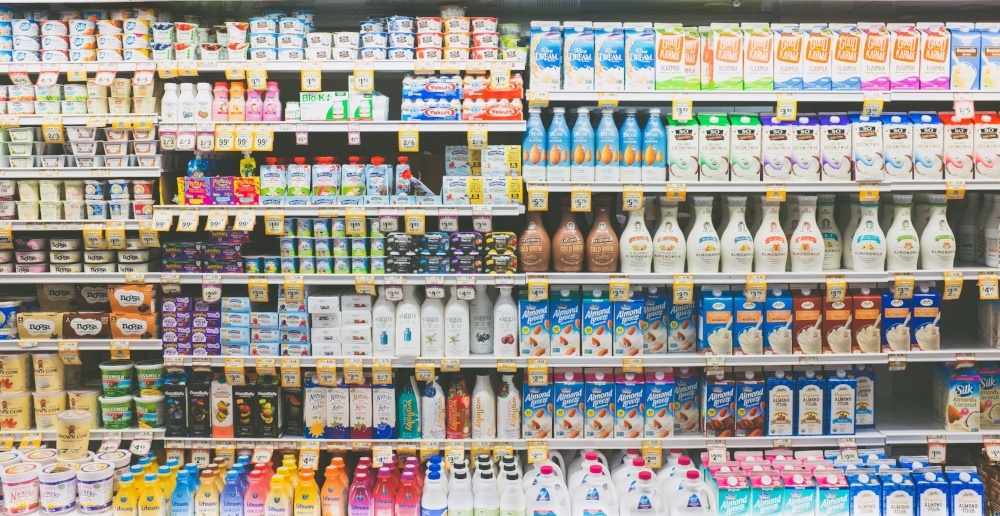 Plastic is a very cost effective packaging material for any business, and it's various forms are widely used across the globe. However some questions can be raised about the types of plastics that are commonly used for packaging; like their composition, usefulness and (all importantly) how they can be recycled.
This blog aims to give you more information about the types of plastic you could expect to see in your business or in the supermarket, which ones you are probably using everyday. Read on to find out more.
Want to find out more about the advantages of using plastic packaging? Download the free infographic here.
High Density Polyethylene (HDPE)
Common uses:
bottled liquids (like shampoo, detergent and milk)
implants for reconstructive surgery
bottle caps
cosmetics
HDPE is well known for it's high density to strength ratio, making it a very versatile plastic that is resistant to chemicals and shattering. This also makes it a safe plastic that can be used for a wide range of purposes.
HDPE comes under the number 2 in the recycling scale which means it is considered a safe plastic, and can be recycled into things like pens, rubbish bins, outdoor furniture, fencing, and detergent bottles.


Low Density Polyethylene (LDPE)
Common uses:
LDPE is quite flexible and tough, with an excellent barrier to oxygen, water, and carbon dioxide. These properties make it ideal for flexible food packaging.
LDPE is classified as 4 in the recycling scale and is also considered a safe plastic. These products are generally recycled into things like paneling, bin liners and shopping bags, floor tiles, and shipping envelopes.


Polypropylene (PP)
Common uses:
takeaway containers
medicine bottles
medical or laboratory instruments
Also known as polypropene, this plastic is quite flexible (but strong) and can be moulded to suit a wide range of functions. It's resistance to chemicals and high melting point make it ideal for holding heated contents. In a 2016 study, scientists mixed PP with another solution to create a plastic which easily repels oily liquids. This could be used to create things like shampoo bottles, where all the contents can be easily removed to make recycling these items much easier.
PP is under the number 5 in the recycling scale, and can be remade into things like brooms, auto battery cases, bins, pallets, signal lights, and bicycle racks.


Polystyrene (PS)
Common uses:
CD cases
meat trays
disposable plates, cups and food containers
disposable razors
Commonly known as styrofoam, this plastic can be produced in a rigid or foam form. This is a low-density foam with a low melting point, however doesn't conduct much heat and insulates well making it a good option for transporting either hot or cold food and drink (when in foamed form).
While PS has a notoriously bad reputation for being hard to recycle, it can still be recycled and falls under number 6 on the recycling scale. It can then be recycled into vents, foam packing, insulation and flower pots. In 2016 Ashton Cofer developed a way to re-use the carbon already found in styrofoam to create activated carbon, which is commonly used to filter water.


Polyvinyl Chloride (PVC, Vinyl)
Common uses:
flexible packaging
medical packaging
blister packs
water pipes
bank cards
PVC has good chemical resistance, weatherability, flow characteristics and stable electrical properties, making it perfect for medical packaging and electrical applications. It is also the world's third-most widely produced synthetic plastic.
This plastic doesn't have a great rap in terms of safety, as it can be toxic when burned (so it is not recommended to reheat food in this plastic). However, it can still be recycled and falls under the number 3, and can be reused for piping, kayaks, packaging, traffic cones, post boxes and speed bumps.


Polyethylene Terephthalate (PETE or PET)
Common uses:
fibres in clothing
drink bottles
food jars
used in the 3D printable thermoplastic, PETG
PET is an excellent water and moisture barrier material, which is why plastic bottles are widely made from PET. It also allows for a longer shelf life of products due to it's good quality barrier to the outside world. Being clear makes it great for food packaging as consumers can see the product. It also does not break easily and the pure nature of the plastic means it doesn't taint the flavour of food.
PET falls under number 1 on the recycling scale, and can be recycled into things like new containers, strapping and rope, carpet fibres, clothing, and cushion or jacket filling.
So now you know more about the various types of plastic which you can find in every day items. As you can see, they have a wide range of uses and most are safe to use and recycle. It's important to emphasise the environmental impact of plastic waste, and to provide education and encouragement to your own customers to recycle their plastic packaging when they get home.
Still want more information on why you should use plastic packaging in your business? Find out more facts about using plastic packaging in your business by downloading the free infographic here.
References:
https://www.plasticpackagingfacts.org/plastic-packaging/resins-types-of-packaging/