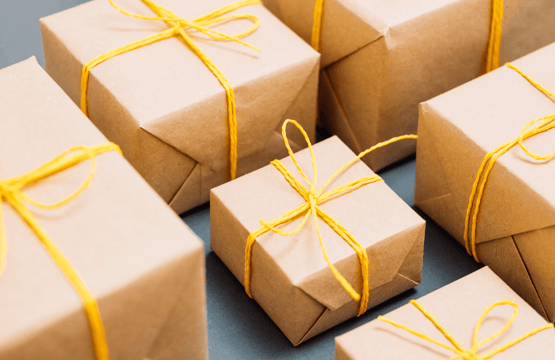 In a world where online shopping is the new normal, it's often the most enticing products that stand out to shoppers. When there's no physical store the responsibility falls elsewhere to delight and amaze the customer to keep them coming back. But what makes a product enticing, and the difference between adding to cart or simply leaving it behind? The packaging!
When done correctly, packaging has the chance to be a further avenue to advertise your brand, excite your customers, and encourage them to take a specific call-to-action. One way to make your packaging more visually appealing and on-brand is to create your own custom packaging. Custom packaging is just that – custom and made to your requirements. Custom packaging can be a great option for businesses that want to do something different and who would like to offer their customers a more bespoke shopping experience (and when the standard sizes get in the way of that goal).

So you're considering your own custom packaging? Great stuff! Before you get underway, there are a few important considerations that need to be made to ease the process. Like what you'll be using custom packaging for, and the different types of custom packaging products that you may need.

As packaging experts, we've covered some basic things that you should consider before you get started with custom packaging as well as some custom packaging products we recommend.
Making the most of the packaging experience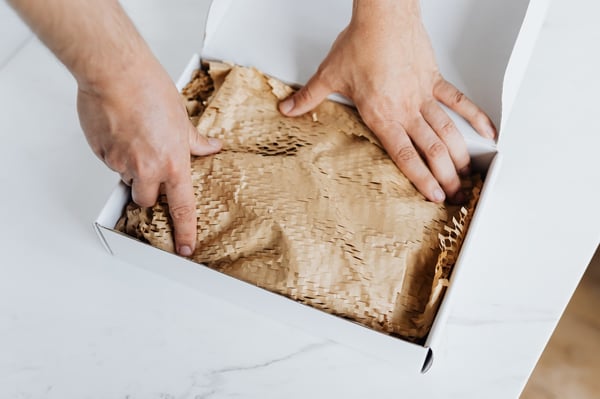 A well thought out packaging experience will make all the difference to your customers, and the shopping experience that they have with you. Compared to physical retailers that have multiple opportunities to delight their customers in store, it can be harder for online retailers that don't have a physical presence, so making sure that your packaging leaves a good impression is one way that you can achieve this. Packaging that is considered and that makes the customer feel like they're getting something special will make your brand one to be remembered and will keep those new customers coming back for more!

If you're in an industry where unboxing videos are a possibility then your packaging could be a feature promoted to tens of thousands of people.

Custom packaging that is used throughout the entire packaging experience will also mean that your brand is promoted at every step of the shipping process. From being collected by the courier to arriving at the customers' door, branded packaging will ensure that your products stand out on the way to their destination. This is an excellent way to increase your brand awareness and to get a bit of extra advertising, at no extra cost to you.
Custom packaging considerations
Now that you're ready to get started with custom packaging, it's a good time to consider the different packaging items that you will need. There are now many different choices when it comes to custom packaging that to begin with may seem overwhelming! As a starting point take the time to consider:
The products that you will need to ship.
The size of the products that you need to ship.
Are your products fragile? What sort of protection will they require during transit?
How custom do you want your packaging to be? I.e the amount of printing that you will likely need.
Your packaging budget.
If you're a new online retailer it's likely that your budget will determine the custom packaging options you choose. However, if you have a bigger budget then you have more room to play with the different types of packaging options available to you. Spending a bit more to give your customers packaging that they will appreciate and remember you by is well worth the investment, and will more than pay off in the long run. If you're unsure of the right solution for you then it's always best to discuss your thoughts with a specialist who might be able to guide you towards the cheapest, most suitable option.
Custom packaging options
With a big range of custom packaging options now available, it can help to go back to basics and invest in only the most essential packaging products. We would recommend investing in some of the following custom packaging products to start with.
Custom cartons & boxes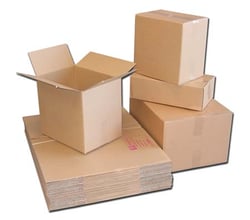 Custom cartons and boxes can be produced in a range of different sizes and colours giving you plenty of choice when it comes to choosing the right box that's perfect for the types of products that you need to ship. As the custom cartons and boxes are also designed specifically to your requirements, they will generally cost less than an 'off the shelf' solution. This type of custom packaging also has the advantage of being able to be printed on, therefore giving you a prime opportunity to make your products stand out, and make sure that your brand is noticed!
Enquire about custom cartons and boxes here >>
Custom tape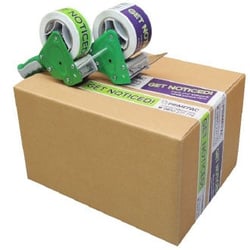 A custom packaging option that goes perfectly with cartons and boxes is custom tape! Not only will tape make sure that your goods are packaged and secure during transit, it's also another way to advertise your brand. With printing options available, you can choose to print your logo, key message, or contact details. Worried that your packages may be damaged during transit? Take this opportunity to print a warning message like 'fragile'.

Tape is often the first thing that your customers will see when they rip into their order! Take this opportunity to promote your company and brand message.
Enquire about custom tape here >>
Custom labels



Custom labels can be a great option for businesses that may often ship fragile or perishable goods to customers. Like the other custom packaging options we've mentioned, custom labels can also be printed with things like your company logo or a key message making them the perfect choice to keep your items protected during transit. Print your labels with warnings like 'fragile', 'this way up', or 'keep cool' to ensure that your goods arrive at their destination in the best condition possible.
Enquire about custom labels here >>
As you can see, there are lots to know about custom packaging and the range of different options available. We've highlighted a few basic custom packaging products to get you started, that are generally helpful for any e-commerce business. And with custom printing also available, you're guaranteed another way to advertise your brand!

Talk to us today about the different custom packaging options available, and request a quote to get the ball rolling.